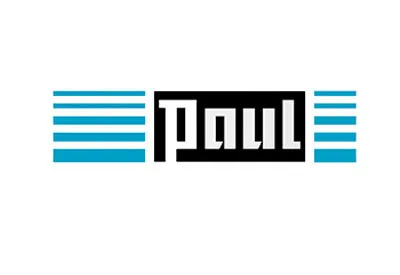 Paul Maschinenfabrik GmbH & Co. KG was founded in 1925 and has since become a leading manufacturer of woodworking machinery and machines for producing prestressed concrete on a global scale. With a total workforce of 285, the company is among the major employers and training centres in the Biberach district.
The company's primary goal has always been to explore new markets and remain at the forefront of innovative concepts. With a worldwide export ratio of 80%, they have established a dominant position in their woodworking machinery product divisions and prestressed concrete production systems. Their machines can be found in almost every country, and Ukraine, by contacting us.
HIGH SPEED DOUBLE-SIDED EDGING MACHINES MODEL KME2
The classic machines for trimming boards, cutting carriages and cutting lamellas are double-sided edgers of the KME2 and BM series. In their mechanical, electric or hydraulic version, up to four saw boxes can be installed. The drive power reaches 75 kW, and the flow is regulated smoothly, without jumps. Such machines can be used in almost any sawmill. These machines, produced since the beginning of the 1950s, laid the foundation for the good name of PAUL as a leading and competent manufacturer of woodworking machinery. At the moment, the company has produced more than 8,000 machines of this class that operate worldwide. Sawmill owners especially appreciate the following qualities of these models:
compact, closed form;

stable welded steel construction;

stable torsionally rigid bed;

 high precision manufacturing of all machine parts;

high quality dustproof ball bearings;

fastening of the main saw shaft with hard chrome coating in three bearing supports;

drive motor power up to 75 kW;

free space under the saw shaft and lower rollers;

was sold and justified itself thousands of times!
COMBINED EDGING, MULTI-SAW MACHINE KME3
Combined gang saw of a new generation for trimming edges and longitudinal cutting of lumber KME3 ideally combines the advantages of the KME2 model proven by many years of experience with innovative technical solutions, which include:
CNC control system based on LINUX operating system

Hydraulic 

top roller pressure adjustment

Reversible hydraulic 

innings

Modular design allows for customization

Max. 

ease of machine operation due to servo-driven lasers

Easy replacement of the saw tool
Max. Drive power of the saw shaft

Max. number of adjustable permutations of saws and riving knives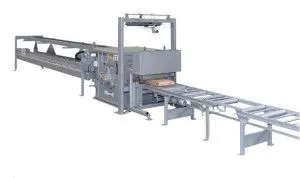 HEAVY MACHINES FOR DOUBLE SIDE CUTTING AND SECONDARY CUTTING, MODEL SERIES
Heavy, strong and strong, the S Series machines are built for extreme conditions. The special layout of the upper and lower rollers of the material supply system ensures a reliable passage of the workpiece through the working area of ​​the machine. The upper rollers are equipped with an additional hydraulic pressing system. The scope of these universal machines with manual or automatic loading is almost limitless due to the following features:
Secondary cutting of lumber up to 225 mm thick;
Trimming edges when sawing boards or carriages;
For cutting heavy wood, equipped with; powerful saw drive (up to 250 kW);
As a universal machine for cutting special materials (mineral wool boards, etc.);
Possibility to connect an automatic workpiece feeding system to reduce personnel costs.
MODELS SGL SERIES WITH PARALLEL STROKE OF THE WORKPIECE AND SAW ROTATION
Models of the SGL series, where the direction of rotation of the saw blades coincides with the direction of movement of the workpiece, provide maximum work safety, higher yields with the same amount of raw material, unhindered removal of chips and wane, as well as optimal saw blade guidance. By supporting the workpiece in the cutting area, exact dimensions are achieved. Since the cut surface is clean, without any irregularities, it is no longer necessary to plan it. Low cutting pressure requires less force and saves energy. 
All machines can be equipped with a variety of accessories necessary for varying degrees of automation:
        laser light guide for leveling and cutting boards

        wane separator for automatic removal of cut material

         automatic height adjustment of rollers

         vibrating tray for separating dust, shavings, wane, etc.
More detailed information about PAUL Maschinenfabrik in Ukraine from our Machinery Supply Director, Mr Volodimir Benkovsky.