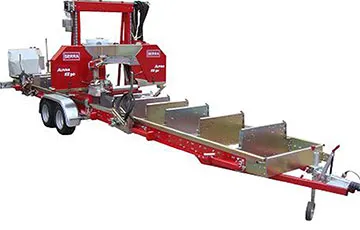 Alpina KE 90
The ideal machine for those who start sawing:
- drive motor 18 kW;
- stepless electromechanical longitudinal feed;
- electromechanical lifting-lowering of the saw unit;
- debarking cutter;
- automatic positioning system;
- productivity 8h - 18 kbm.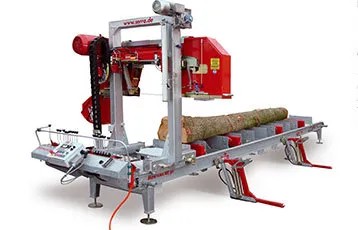 Montana ME 90
Germany's best-selling band saw with fully galvanized main frame. High quality lumber obtained due to the extended saw unit and wide saw blade. The well-thought-out modular design of the machine allows it to be equipped with the necessary number of log handling system components based on the needs of a particular production. optimal combination of price and performance.
- drive motor 18 kW;
- productivity 8h - 25 kbm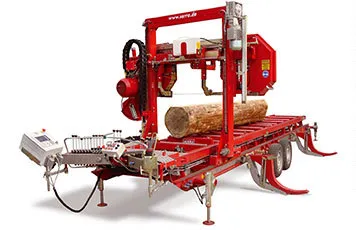 Bavaria SL 110i/130i
Tried and tested many times under the most difficult operating conditions, the band saw is ideal not only as a stand-alone unit in sawmills or sawmills, but also as a head machine in combination with gang equipment in roundwood sawing production lines. The simplicity and reliability of the design, a powerful frame equipped with stainless steel log supports, together with a deployed saw unit for logs with a diameter of 110 or 130 cm, guarantees a long and productive operation of the machine with any sawing length and such an arrangement of the components of the log handling system that will best meet assigned tasks.
- drive motor 18.5 kW;
- productivity 8h - 33 kbm.
Africa SL 130s/160s
In Africa and South America, this car was called a tank. On her huge wheels, behind a Caterpillar tractor, she moves from one plot to another. Since in Europe there is a ban on the transport of machines of this size, these machines for the European market are mainly manufactured in a stationary version. Despite the massiveness of its design, Africa has remained as simple and easy to operate as any SERRA machine. The Africa SL range of band saws is subject to the same rule as the Bavaria. You can build the machine yourself based on the needs of your production.
- drive motor 22 kW;
- productivity 8h - 36 kbm.
More details about the company and the equipment it produces can be found in the catalog.
More detailed information about SERRA Maschinenbau from our Machinery Supply Director,
Mr Volodimir Benkovsky.