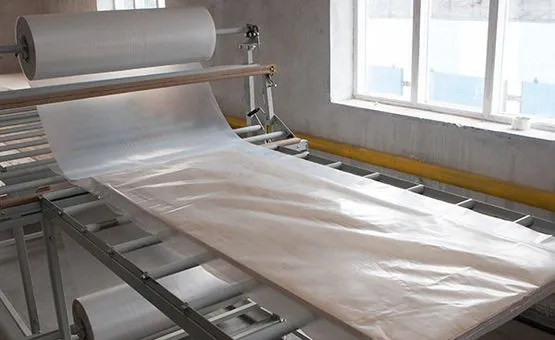 The packaging of the finished product is important for its protection from external influences and the preservation of the originally specified quality properties of the products. Considering this circumstance, the Lira company constantly pays great attention to the high-quality packaging of its products, striving for its most complete tightness.
So, from the very beginning of the production of molded products and furniture panels, we use stretch film as a packaging material, which has the ability to reversibly stretch with high elongation, which, in comparison with other film materials, has increased strength, resistance to tearing, puncture, impact and punching. , stickiness of the film layers in relation to each other.
Due to the elastic stretching of the stretch film during the packaging process and due to its desire to return to its original state, a holding force arises that ensures stable fixation of products while maintaining the protective function of the package. The unique property of stretch film is the stickiness of the layers to each other. Due to this, the layers adhere tightly to each other during wrapping, forming a hermetic package.
Another type of hermetic packaging is thermal packaging, which also uses films, the special property of which is the ability to shrink under the influence of temperature and take the shape of the packaged product.
Thermal packaging is used as the final packaging for small items, which gives them an attractive appearance and protects them from external influences. Used for both single and group packaging.
In order to improve the packaging technology, Lira LLC launched a packaging line that produces packaging of long and molded products: lining, timber, floor and terrace boards, furniture panels, etc. into a shrinkable polyethylene film, which significantly increases the safety of products during their subsequent transportation and storage.
From now on, our customers can order the packaging of molded products and furniture panels purchased from us both using stretch film and shrink film. The latter is especially true when purchasing furniture panels in separate sheets. In this regard, I would like to remind you that the size of our standard furniture board is: 18 x 600 x 2800 mm. Dimensions of mini-format furniture boards: 18 x 600 x 1400 mm and 18 x 600 x 1300 mm. Furniture panel grade A/B is always available in our warehouse, well-packed and ready for shipment at any time.
Dear customers, when ordering the products you require, you yourself choose the type of packaging that you need to indicate when placing an order. You can always get more detailed information on packaging from our sales manager Vladimir: